Author: POS Supply Date Posted:11 June 2015
---
How a Cash Drawer Can Become a Best Seller — EC410
This is the story of how a cash drawer can become a best seller. Amazing, yet simple tale of quality and success. Nothing flashy. Just solid dependability.
VPOS EC410 Heavy Duty Printer Driven Cash Drawer 5 Note / 8 Coin
A cash drawer? Low price can certainly help an item become a best seller, but that wouldn't last long if the product was not also high quality. The VPOS EC410 certainly fits that bill. Here's what some of our customers say:
"Another successful transaction and delivery spot on with such short notice" — Frank F&B, and he gave it 5 stars out of 5.
"Does everything you expect from a cash drawer although it would be nice if it filled up a little quicker! Operates smoothly and sturdy enough to suggest it will last for many effortless years" — Darius Dunn, and he also gave it 5 stars out of 5.
An Economical Cash Drawer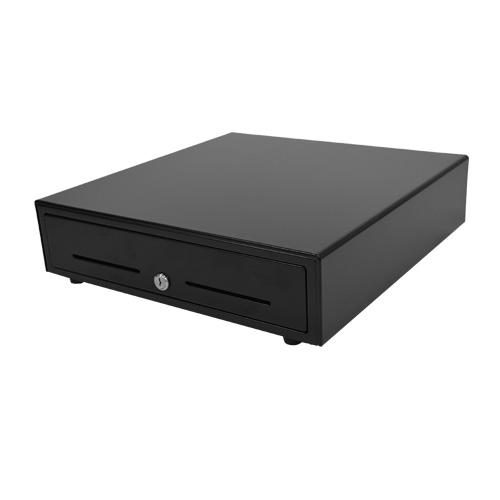 Sorry, we can't help fill the cash drawer, but we can help you keep more of what you do make. We strive to keep our prices competitively low and that's why the EC410 sells for under a hundred dollars, excluding tax. But there are more reasons why this one particular cash drawer is a best seller.
Unlike some of the higher priced models, this cash drawer has an amazing 3-year warranty. Of course, that means 3 years of worry-free use. Solid steel construction means heavy-duty protection and more peace of mind for you.
When you complete a transaction and your printer finishes the receipt, your cash drawer opens so you can complete the transaction. It comes with an RJ12 plug for a standard receipt printer connection. This is compatible with the Epson TMT88, TMT82 and similar receipt printers.
This cash drawer also has 2 front cheque media slots, and standard 5 note and 8 coin bays.
It runs on 24 volts standard, but you have the option to get it with a 12-volt solenoid upon your request.
The dimensions for this cash drawer are also pretty standard: 410mm (wide) x 415mm (deep) x 110mm (high).
Cash Drawer Part of 5 Different Start-up Bundles
This cash drawer is such a good deal, we have included it in 5 of our Start-up Bundles:
POS Supply Platinum Touch Terminal Bundle

Element 314 All-in-One Affordable POS System Bundle
Whether you need a start-up bundle or a new cash drawer, the VPOS EC410 could be just what you're looking for. Order yours today.
---
Comments (1)
Walking in the prenc

1 March 2017

<p>Walking in the prencsee of giants here. Cool thinking all around!</p>
---
Leave a comment