Author: POS Supply Date Posted:21 July 2015
---
How a Change of Attitude Can Boost Your Bottom Line
A change of attitude may be all you need for massive improvements in your bottom line. What do we mean by this? Einstein called it "imagination."
Change of attitude? No one wants to be told that they have the wrong attitude about their own business. That's not what we're saying. Of course, you care about your business and your customers. But imagine for a moment that taking a few seconds or minutes to exercise your mind could open up new possibilities that may lead to a profit bonanza.

Sound too good to be true? What would it hurt to take a couple of minutes to indulge a bit of whimsy? At worst, you might lose a couple of minutes. No big deal. At best, you might find a gem of an idea that could lead to the next big quantum leap in your business's growth.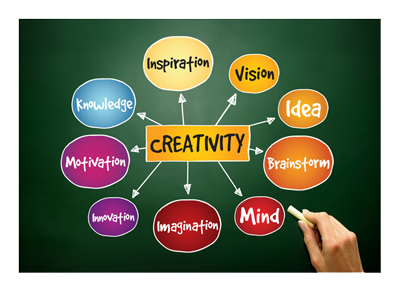 What are we talking about, here? It's called "imagination" and sometimes "creativity." Albert Einstein once said, "Imagination is more important than knowledge. For knowledge is limited, whereas imagination embraces the entire world, stimulating progress, giving birth to evolution. It is, strictly speaking, a real factor in scientific research."

But imagination can also be vital in growing your business. We can use imagination for coming up with new products and services. We can also use imagination to overcome unknown barriers we have placed upon ourselves.

History is full of examples of a little imagination leading to massive success. Fred Smith came up with the idea for FedEx in a college assignment at Yale University. Apple Computer was established in the garage of Steve Jobs' parents' house. From there, Jobs, Steve Wozniak and Ronald Wayne sold computer kits. Microsoft was founded in the sleepy, southwestern city of Albuquerque, New Mexico by a couple of software geeks—childhood friends from Seattle, Washington. Hardware giant, Hewlett-Packard was also started in a humble garage. Some of these giants found their change of attitude naturally and early on.

Each of these innovators shared an attitude that made gigantic success possible.

A 39% Improvement from a 10-second Change of Attitude
Creativity expert, Rod Martin, Jr., author of The Spark of Creativity, related a story of inspirational improvement simply from a change of attitude.

As a young teen, he had done poorly in physical education, but one day became fascinated with the possibilities for improvement in something called the "standing long jump" or "standing broad jump." From a line on the pavement in the school yard, a measurement had been marked, going from zero to ten feet. He had been jumping around 5'6" (1.68 meters) quite regularly, while some of his fellow classmates were exceeding eight feet. On a whim, he decided to view the final line (10') as if it were five feet. He knew he could do that distance easily. For a few moments, he let that new attitude sink in. Then, bang! He jumped and found he had achieved a 39% improvement for his ten seconds of mental effort—7'8" (2.34 meters). A quick change of attitude had resulted in a big improvement.

How can you use this in your business?

Consider your largest international competitor. Now, view them as a pipsqueak start-up compared to your own operation. Take a few moments to get comfortable with that idea. And then ask yourself, "How did we get here?"

Like any brainstorming session, let the ideas flow freely. Write down every thought that comes to mind. Sometimes, within the rubbish you will find a gem worthy of your efforts. Sometimes, you can use the crazy ideas as catalysts for finding the right idea for your business growth.

When you view your current situation from the perspective of the world leader, the challenges you face take on new meaning.

History contains many examples of people who started with nothing, built an empire, lost it all and started again with nothing and built another empire. Their repeat performance shows that their first big success was not a fluke. It's all in the attitude. Some people call this "faith" — a perfection of confidence that allows no room for doubt. This is a world-class change of attitude.

Try it out when you have a few minutes to work on business expansion. And let us know of any breakthroughs you experience. Simply by sharing, you may come up with even bigger ideas. That's how creativity works.
---
Leave a comment